A theater company fewer than two years old opened a new theater in Medford this month.
The Collaborative Theatre Project opened their pop rock version of "The Snow Queen" at their new, 96-seat venue in the Medford Center.
"This was a basketball court," says Pam Ward, one of the three founding members of the troupe, all theater professionals. "You're now standing in a two-week-old theater."
When the health club in The Medford Center — across from the Tinseltown movie theater and an ice cream shop — consolidated to a smaller space, the theater board jumped.
"One afternoon I was over here and there's a space here they call the rotunda and I thought, 'Ah that could be a wonderful lobby — and it still could be," Ward recalls. That got her wondering about renting space there. "I had to get it out of my system and asked."
She says the management was not only interested, but extremely helpful as the CTP board saw the dream of a theater of their own — something they thought would take years — come true in just a few months.
"One advantage of a basketball court is 20-foot high ceilings for us," Ward says, showing a small entry, lobby with tables and a bar and then the theater, now equipped with special sound-proofed walls, LED lighting and a professional sound and light booth.
The center is about to be home to new restaurants as well and, of course, the movie theater makes it an entertainment destination, Ward says.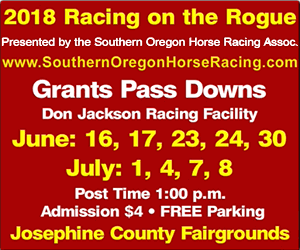 Previously, the CTP hosted a 24-hour play festival, with participants writing, acting and producing a play in a 24-hour period. Then an old-time radio style show of "All About Eve" followed.
From there, they produced "You're a Good Man, Charlie Brown" in the Medford city parks this past summer — an endeavor so successful the parks department has already signed them up for this coming summer.
The company is beginning with the bar set high.
"We pay our actors — they're not gonna get rich, but..." Ward says, adding. "We aspire to be a professional theater company."
Many individuals and businesses have put their money into the theater, she says. People are sponsoring seats in the theater, taking ads in their programs, getting season tickets for the coming year and "We are writing grants like mad."
The troupe is the third in recent years to come to life in Medford, which previously did its theatergoing primarily in Ashland. The Randall Theatre is celebrating six years in its location downtown in spring and the New Stage company has made its home at the Craterian Theater since 2012.
"We felt there was a spot for us," Ward says.
"We want to give all these talented people in the valley a place to do theater — and not have to leave the valley."
Tickets are available for most of the remaining performances of the theater's inaugural show, "The Snow Queen."
It runs at 7:30 p.m. Thursdays through Saturdays and 1:30 p.m. Sundays through Dec. 31. Tickets are $25 for adults, $18 for children. Reserve at ctporegon.org, 541-246-3699 or remaining tickets will be sold at the door.
The show is family friendly and suggested for age 6 and above.
The large cast includes valley theater veterans Grace Peets, Rebecca Campbell and Reese Rush — and a five-piece band directed by Karl Iverson.
Those who are impressed and wish to support the theater will be encouraged to commit to a season ticket for 2017. The up-front funds will boost the theater, which has committed to producing nine shows next year, a mix of plays and musicals.
The season begins Jan. 19 as "Dog Sees God" opens and continues with "Leading Ladies," "Jacques Brel Is Alive and Well and Living in Paris," "The Eccentricities of a Nightingale," a new musical of "Bonnie and Clyde," "Seven Dreams Falling," "A Woman in Black" and a reprise of "The Snow Queen" caps the year.
"We want to grow the audience and grow the theater's presence in the valley," says Ward, who is acting as spokesman and marketing director for the company.
For more season ticket information, see ctporegon.org.
Ward is a professional voice artist who records audiobooks. She's come back to performing on stage as well, after moving to the Rogue Valley 11 years ago from Denver, via California.
The other founding board members are Susan Aversa-Orrego and Obed Medina.
Aversa-Orrego earned a degree in theater at SUNY Geneseo and worked as a costume designer and later a director, while teaching theater.
She later earned a master's degree, moved to the Bay Area and worked for several arts organizations.
After moving to the Rogue Valley, she directed for Camelot Theatre in Talent and Medford's Randall Theatre.
She directed Ward in two shows, which is how they began talking about a new company.
Aversa-Orrego also met Medina through theater. He is a playwright and also a production specialist who works at the Oregon Shakespeare Festival.
The board has since expanded as the project gained steam and began work on the theater.
"The more people hear about us, the more people want to join us," Ward says.
———
Reach reporter Edith Decker at 541-474-3724 or edecker@thedailycourier.com.