MUSIC
CLASSIC ROCK: The Mamas & the Papas Revival, 6-9 p.m. Friday, Bellview Grange, 1050 Tolman Creek Road, Ashland; free, $10 donation suggested, to benefit Almeda Fire Relief; text 206-714-3345 to confirm.
BROADWAY: Patti LuPone, 5 p.m. Saturday, livestream; $30, benefits Oregon Shakespeare Festival; get link at osfashland.org.
ON STAGE
DRAMA: "Pygmalion," 7:30 p.m. Friday and Saturday, 2 p.m. Sunday, Barnstormers Theatre, 112 N.E. Evelyn Ave. and livestream; $18 singles or $60 for groups of four, for live show, $15-$50 for livestream; 541-479-3557, barnstormersgp.com.
COMEDY: "Beyondananda and Beyond — Stand Up With Sawmi, Sit Down With Steve," 7:30 p.m. Saturday, via Zoom; $8-$18; get link at havurahshirhadash.org.
EVENTS
BENEFIT: Dare to Dream Gala, auction, entertainment, 5 p.m. Friday, livestream; free; get link at osfashland.org.
EQUINE: Gymkhana, 9 a.m. Saturday, Josephine County Fairgrounds; free for spectators;
541-621-4473.
FELINES: Cat-urday, talks, activities about wild cats, 10 a.m.-3 p.m. Saturday, Wildlife Images, 11845 Lower River Road. $7-$14; 541-476-0222.
HALLOWEEN: The Ghosts of Times Past, 6 p.m. Saturday, Schmidt House, 508 S.W. Fifth St. $10; 541-479-7827, 541-441-2732.
ALBUMS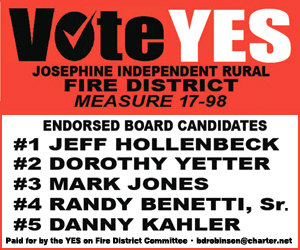 Dropping Friday:
ARMORED SAINT: "Punching the Sky"
JOE BONAMASSA: "Royal Tea"
SEVENDUST: "Blood & Stone"
BRUCE SPRINGSTEEN: "Letter To You"
JEFF TWEEDY: "Love Is That King"
BOOKS
Released this week:
ROBYN CARR: "Return to Virgin River"
JOHN GRISHAM: "A Time for Mercy"
GABBIE HANNA: "Dandelion"
MARK SALTER: "The Luckiest Man: Life of John McCain"
VIDEO
Released this week on DVD/Blu-ray:
"CUT THROAT CITY": In the wake of Hurricane Katrina, four friends agree to a heist in New Oreleans. With Ethan Hawke. R
"NO ESCAPE": A social media personality visits Moscow and pushes limits to gain ratings. R
"THE SECRETS WE KEEP": In post- World War II U.S. a woman (Noomi Rapace) kidnaps a neighbor she believes is a war criminal who tortured her. R
TV SERIES: "Quiz: Season 1," "The Great: Season 1"