On the trail of winter waterfalls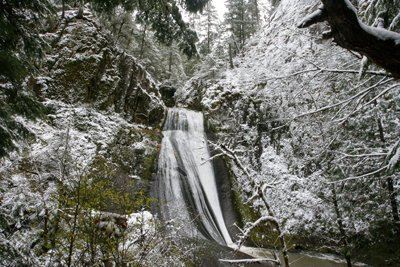 Zach Urness/Daily Courier
Wolf Creek Falls can be found at the end of a trail near Little River, which is a tributary of the North Umpqua River.
Searching for waterfalls in the snow — an activity I call winter waterfall hunting — is a fun sport during the year's coldest months. The best area is around the North Umpqua area. Here's a photo gallery of the North Umpqua and its tributaries.
o o o oBy Zach Urness of the Daily Courier
There are certain December mornings when it feels as though my head has been injected with raspberry jam.
The sticky, cobwebbed feeling comes in part because my apartment is shut up tightly enough to preserve every drop of warm air, and in part because said apartment holds the faint perfume of something that's probably been dead for a few weeks.
Mostly, though, a muddled head indicates a lack of fresh air in my diet, and that it's time for the newest season of a sport I call winter waterfall hunting (WWH). This is not a sport you'll find on ESPN, but it does provide an excellent reason to get outside when the fish aren't biting, the animals are hibernating and the fog that's rolled into the Rogue Valley has started to dampen your general outlook on life.
The goal is to check out as many waterfalls as possible during the year's coldest months, with bonus points thrown in for finding them in the snow. It doesn't require much beyond a jacket, wool socks, a stocking cap, boots and a car (chains helpful, but not required). Ideal conditions are 25 to 35 degrees, along with a healthy snow somewhere between 1,000 and 3,000 feet.
I found both these conditions southeast of Glide during a recent trip along Little River, a tributary of the North Umpqua River. There were more than 17 waterfalls within the North Umpqua area and on that particular day — a day of platinum gray skies and chilled winds — I bagged Wolf Creek Falls first.
The trip began when I reached the trailhead via paved road, crossed a long green bridge and stepped into a world that could only be described as the inside of a snow globe.
I followed a barely-visible trail along Wolf Creek through a forest that was silent and white, hiking quickly to keep the blood flowing and warm. The dark ribbon of water ran between snow-covered trees, whose branches seemed to reach across the creek from opposite sides, like pale fingers clasping together.
I walked below icicles hanging from tufts of silver-green moss, and with each breath I drank the cold, fresh air into my lungs.
After 1.3 miles, I began to hear the rush of Wolf Creek Falls echoing a steady hum in the distance. The trail passed smaller, lower falls before reaching the 70-foot cascade of silver water that slid down a thick slab of basalt into a pool below.
I boot-skied off the trail, down a bank of snow and rock, then balance-beamed across a large downed tree to the base of the cascade. It's not possible to describe the freshness of winter waterfall mist upon your face, but I do know that it cleared my raspberry-jam brain within seconds.
And that, really, is the whole point of WWH. December is a stressful month, whether you're a college student struggling through finals or a mother preparing for the holiday invasion of relatives. Maintaining sanity requires fresh air.
The good news is WWH has three levels of difficulty to accommodate everyone from the novice to the arctic explorer.
The first is Class A, which denotes low-elevation waterfalls with easy hikes and paved road access year-round. The North Umpqua area includes places such as Wolf Creek, Susan Creek, Fall Creek and Toketee Falls, along with the spectacular 272-foot plummet of Watson Falls that sometimes grows icicles around its base during cold-snaps. The drawback is that these areas don't always have snow.
Then there's the step up to Class AA. This level is typically for those with trucks and chains, who don't mind driving off the main road and into higher elevations where the roads are sometimes blanketed with snow. This can include places such as Grotto, Yasko and Hemlock Falls — along with plenty others — that are around 3,000 feet. The reward is amazingly beautiful, silent and empty forests where reaching the waterfall sometimes requires skis or snowshoes.
"There are times when I'd strongly avoid going off the main road unless you have the correct equipment," a ranger at the North UmpquaRanger Station told me. "We've had to go and get plenty of people who didn't think to put on their chains until after they slipped off the road."
And finally there's my favorite: Class AAA's frozen waterfall hunting. It's a trip to those select backcountry waterfalls that actually freeze mid-cascade. As you might imagine, Class AAA requires the most preparation and cold-weather readiness. And that's a trip I'm saving for another story later this winter after I wake up with a head filled with raspberry jam.
• IF YOU GO. For a detailed list of waterfalls in the North Umpqua River area and directions to find them, check out www.zachsadventures.com. ... Before going out on any trip, be sure to check the conditions by calling local rangers stations, which in the North Umpqua area are the North Umpqua Ranger District (541-496-3532) or the Diamond Lake Ranger District (541-498-2531).
North Umpqua area waterfalls list
(For good map, check out this website)
*Be SURE to check roads before traveling ... North Umpqua Ranger District (541) 496-3532 or Diamond Lake Ranger District (541) 498-2531.
Deadline Falls
An easy .4 mile hike takes people to this massive falls where steelhead and salmon may be observed jumping up the powerful falls.
From Roseburg drive east on Highway 138, at milepost 22.1 turn south crossing Swiftwater bridge, then immediately turn left into trailhead parking area.
Susan Creek Falls
A nearly one-mile trail leads hikers through a forest setting to the 50-foot drop of Susan Creek Falls. To reach the falls from Roseburg, take Highway 138 East to the Susan Creek Picnic Area, about 29 miles. The parking area is across from the Susan Creek picnic area.
Fall Creek Falls
This one-mile trail winds around and through slabs of bedrock and past the natural, lush vegetation to a double falls with each tier 50 feet high. The Job's Garden Trail, which takes off at the half-mile point, leads through a Douglas fir forest to the base of basaltic, columnar rock outcroppings. Both trails are located off Highway 138 at Fall Creek, about 32 miles east of Roseburg.
Little Falls
Little Falls
Located on Steamboat Creek, this small but powerful waterfalls pours over large basalt boulders and cliffs. From Roseburg, follow Highway 138 east. At milepost 38.3, turn north on Steamboat Road #38. Proceed 1.3 miles up Road 38. Falls are visible along the right side of the road.
Steamboat Falls
A viewpoint showcases this 25-foot waterfall. Some fish attempt to jump the falls, while others use an adjacent ladder. From Roseburg take Highway 138 east. At milepost 38.3, turn north on Steamboat Road #38 and continue for six miles, then turn onto Road 3810 and travel to the Steamboat Falls Campground entrance.
Toketee Falls
A trail leads visitors through an old-growth forest along the North Umpqua River with views of cascading water through a narrow rock gorge. The trail has 200 steps leading to a sturdy deck overlooking the two-tiered falls. The upper descent drops 40-feet, and the lower falls plunge 80-feet over a sheer wall of volcanic basalt. From Roseburg, head east on Highway 138 for 58.6 miles on Hwy. 138. Turn north onto Road 34. Stay left at the Y and cross the bridge. Trailhead road is 200 feet on the left.
Watson Falls
This majestic waterfall is the highest in Southern Oregon and fourth-highest in Oregon, with a drop of 272 feet. From Roseburg, take Highway 138 east for about 61 miles. Watson Falls is located on Road 37, off Highway 138 near the east entrance to Toketee Ranger Station.
Whitehorse Falls
Relax on the porch-like vista overlooking this 10-to 15-foot punch bowl waterfall along Clearwater River. From Roseburg, take Highway 138 east about 67 miles to Whitehorse Falls Campground. A viewing platform is wheelchair- accessible.
Clearwater Falls
This 30-foot falls cascades over moss-covered rocks and logs and is only a short walk up the Clearwater River. From Roseburg, take Highway 138 east to milepost 69.5. Turn
south at the Clearwater Falls Campground entrance. Follow access road for 0.2 mile to the picnic area.
Lemolo Falls
The Indian word Lemolo, a Chinook term, means "wild" or "untamed." The meaning comes to life as the waterfall thunders 75 to 100 feet downward to the North Umpqua River. From Roseburg, drive east on Highway 138 to milepost 72.8. Turn north on Road 2610, proceeding 4.2 miles. Turn left on Road 3401 (Thorn Prairie Road). Go about 0.5 mile, turn right on Road 3401- 8 . Continue 1.75 miles, turn right at 00
Road 3401-840. The trail is at the end of the road 0.25 mile. The trail works its way down the canyon to the base of the falls.
Warm Springs Falls
Columns of basalt are punished day and night as this waterfall thunders over the rocks and drops more than 70 feet into the creek bed below. From Roseburg, take Highway 138 east to milepost 72.8. Turn north on Road 2610, going approximately 6 miles. After the dam, stay left on Road 2610, proceeding approximately 3 miles to Road 680. Turn left and proceed 1.7 miles to the beginning of Warm Springs Trail #1499.
Little River area
Wolf Creek Falls
A trail of slightly more than a mile leads to Wolf Creek Falls, which slides down a mountainside in two parts. The upper portion drops 80 feet and the lower tumbles 50 feet. From Roseburg, take Highway 138 east to the town of Glide, about 16 miles. Turn onto Little River Road and follow for 10.7 miles to the trailhead at the arched bridge over Little River. A picnic table is located half a mile up the trail.
Cedar Creek Falls
Water trickles 40 to 60 feet from a cliff to create Cedar Creek Falls. From Roseburg, take Highway 138 east of Roseburg to Glide, about 16 miles. Turn on Little River Road and follow it for 12.1 miles to Road 2700-095. Drive one mile to a sharp switchback in the road. The falls are on an adjacent cliff.
Hemlock Falls
Rocks, ferns and trees surround this 80-foot rush along Hemlock Creek. From Roseburg, take Highway 138 east from Roseburg to Glide, about 16 miles. Turn on Little River Road and follow it for about 25.8 miles to Lake-in-the-Woods Campground. The trailhead is located just before the campsites.
Yakso Falls
Little River drops 70 feet and protruding rocks spread the water flow to make Yakso Falls a spectacular sight. The falls are three-quarters of a mile from the trailhead at the entrance to Lake-in-the-Woods Campground. From Roseburg, head east on Highway 138 for 16 miles and turn right on Little River Road. Follow for 25.8 miles to the campground.
Grotto Falls
The shimmering waters of this waterfall plunge 100 feet along Emile Creek. Visitors can walk into the grotto behind the fall, but be careful — it's slippery. From Roseburg, take Highway 138 east to Glide, 16.3 miles. Take Little River Road to Road 2703 at Coolwater Campground. Take Road 2703 nearly four and one-half miles to the turnoff at Road 2703-150. Continue another two miles to reach the trail.
Shadow Falls
This triple-descent waterfall has eroded its way through a rock fracture to form a narrow, natural grotto. The descent totals 80 to 100 feet along Cavitt Creek. The falls are located on Shadow Falls Trail, about nine miles from the junction of Cavitt Creek Road and Little River Road on Road 25. To reach Little River Road, take Highway 138 east from Roseburg to Glide, about 16 miles.