Champion trees highlight Cathedral Hills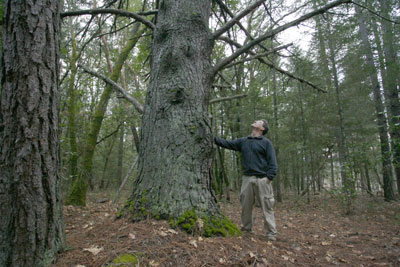 Zach Urness/Daily Courier
This knobcone tree is the largest of its known species in Oregon.

The Cathedral Hills Trails System, which is just a few minutes south of Grants Pass, is home to two Oregon state champion trees -- a whiteleaf manzanita and knobcone pine. Here's a link to a photo gallery of Cathedral Hills and a video.

o o o oBy Zach Urness of the Daily CourierPaul Brown is the type of hiker who pays attention to details.

The former park ranger and wildlife illustrator notices woodland minutia the average person might miss, such as the nesting habits of a pileated woodpecker or the pattern of moss growing on a tree.

So when the 50-year-old came across two uniquely large trees in the Cathedral Hills Trail System south of Grants Pass — a whiteleaf manzanita and knobcone pine — he could tell there might be something special about them.

Turns out he was right.

Both trees are the largest of their species in the state, according to the Oregon Department of Forestry's Big Tree Registry (now called the Oregon Champion Tree Registry), which has been tracking the Beaver State's most impressive trees since 1941.

"It's amazing when somebody finds these type of trees right in the middle of a busy place (like Cathedral Hills), that nobody knew about," said Frank Callahan, a Central Point botanist who made official measurements on the two trees. "You're always surprised no one has removed them when they're this close to an urban area."

Cathedral Hills' state champion trees are not immediately obvious to the amateur tree hunter. The knobcone pine (pinus attenuata) is massive for its species, with a height of 117 feet and circumference of 118 inches, but it's crowded by ponderosa pines and Douglas firs.

It's only when you look at the bark, which has a more smooth grayish quality — like the cracked skin of an elephant — that distinguishes it from the deep, wavey indentations of a pine trees.

"It's really unusual in size because they tend to be much smaller and grow in places with a serpentine soil structure," Brown said of the knobcone. "But this one is growing very happily in the bottom land."

In fact, Brown, a Grants Pass resident, believes the knobcone has grown so large because it's fighting for sunlight with the other, faster-growing trees.

"It has to focus on growing to keep from being shaded by the other trees," he said. "And it's more than holding its own. It's very healthy and could easily be around for another 50 to 100 years."

The tree itself is fairly easy to find. It's located about the midway point of the Ponderosa Pine Loop at a bend in the trial.

The whiteleaf manzanita is more hidden. It's located off-trail near the junction of Cloverlawn, Hogback and Zed's Way trails.

"I must have walked past it a dozen times before I noticed it," Brown said. "There are a bunch of large manzanitas in that area and it wasn't until I wondered little around a little that I found it."

The process Brown used to turn the Cathedral Hills knobcone and manzanita into state champion trees was fairly simple.

The Oregon Department of Forestry began keeping track of Oregon's largest trees in 1941. But because of a lack of funding, the department has delegated the task to nonprofit groups recently.

Portland-based nonprofit Ascending the Giants maintains the database, which includes 137 different species of trees. They take nominations for champion trees from people, such as Brown, who nominate trees by sending in pictures and measurements (trunk circumference, the height and average crown spread).

If the nominated tree is the largest on record, they send out a local expert to verify the tree's measurements.

"We feel it's important to keep track of champion trees for the simple reason that many of the biggest ones are long gone, and we feel it's important to keep as many as possible around for future generations," said Brian French, President of Ascending the Giants. "We want people to know what a tree really should look like, and we want more people to get involved. It really doesn't take much to nominate a tree."

Not every champion tree is accessible by the public. French said many are located on private property or deep in the wilderness.

In some ways, that makes the Cathedral Hills' knobcone and manzanita trees that much more impressive. They're the rare state champions located in a place where the public can enjoy them.

Not everyone has the same eyes for the wilderness as Paul Brown. But with a short hike and extra attention to detail, anyone in the region can gaze upon these Oregon champions.

"They do stand out," Brown said. "It makes hiking a lot more fun when you find these surprises out along the trail."

CATHEDRAL HILLS STATE CHAMPIONS

Knobcone pine (Pinus attenuata)

Height — 117 feet

Circumference — 118 inches (9' 10")

Average crown spread — 51 inches

Location — midway point of Ponderosa Pine Trail

Whiteleaf manzanita (Arctostaphylos manzanita)

Height — 25 feet

Circumference — 55 inches (4' 7")

Average crown spread — 28 inches

Location — near the junction of Cloverlawn, Hogback and Zed's Way trails.