Bolan, Tanner lakes great family spots in the mountains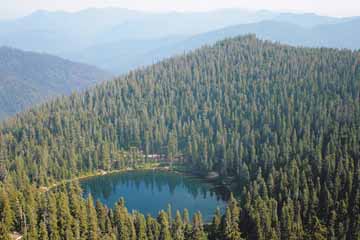 From 6,269 feet, Bolan Lake looks for all the world like a lonely backcountry destination. However, it's home to Bolan Lake Campground and campers can drive all the way.

Bolan Lake Campground and Tanner Lakes are the most scenic mountain destinations in Josephine County. Both are easy to reach as well, and make perfect spots for families.

Here's a photo gallery of the Bolan Lake area and here's a video.o o o oBy Zach Urness of the Daily CourierFrom 6,269 feet, Bolan Lake is a tiny blue puddle surrounded on every side by an endless carpet of pine trees and the turquoise waves of Siskiyou Mountain peaks.

The lake appears nearly consumed by wilderness and accessible to human contact only by following a difficult, calf-destroying mountain trail.

Yet nothing could be farther from the truth.

Although Bolan Lake displays all the characteristics of a deep backcountry lake overhanging mountain peaks, an elevation of 5,374 feet and a rugged assortment of trees and rocks along its shoreline the lake actually is home to an official campground that can be reached without leaving your car.

Tannen Lakes are a similar story. Located just a few miles east of Bolan, the largest of these two mountain lakes requires only a 0.4-mile hike to reach its shores.

Finding both Bolan and Tannen lakes does require a bumpy drive through a maze of forest roads, but the fact that you can drive the entire way, or close to it, means both destinations are perfect for families seeking the hibernation of the woods without a tough, sweaty hike.

The Bolan Lake Campground features 12 campsites that cost $5 per night during the summer, while Tannen Lake has at least three areas suitable for camping along the shoreline.

I visited both spots during the great triple-digit heat wave in Grants Pass to fish at Tannen Lake and enjoy an easy night at Bolan Lake Campground.

And while the lack of true mountain backpacking did detract slightly from the more adventurous feel of the trip, I also found the area swarming with children learning to hike, fish, camp and enjoy the great outdoors rather than sitting in front of a television or computer screen and for that, both places receive my full endorsement.

FISHING AT TANNEN

I arrived at Tannen Lake just as the sun was beginning to pour streams of yellow haze down the green amphitheater walls and out across the shimmering surface of the water.

I considered fly-fishing, but with the 90-degree heat of the day, decided to fish more comfortably by trolling from my small inflatablekayak.

Soon I was floating out across the sparkling surface of the water, my legs dangling off the edges of my kayak, with a nightcrawler-rigged rod in one hand and a cold beer in the other.

Fly-fishing is art. It requires sweat and mental discipline. Fishing with a nightcrawler from an inflatable kayak requires the effort of watching a football game on television. But good lord is it a fine way to spend a hot afternoon in the Siskiyou Mountains.

Along the south shoreline of the lake, I found the area where the water level dropped off from shallow depths to around 28 feet, and trolled up and down the underwater ledge, weaving between downed trees and underwater rock shelves where I nabbed a few 6-inch trout.

Finally, as the day slowly switched from afternoon to evening, I landed an 8-inch rainbow with a belly the color of an October sunset.

It wasn't a great fishing performance those are pretty rare for me regardless but I was satisfiedand decided to head back to Bolan Lake campground.

HIKING BOLAN MOUNTAIN

I woke up while most of the Bolan Lake Campground still was sleeping, tossed a few snacks into my daypack and purified some water for the hike to the top of Bolan Mountain.

This hike is about 3.5 miles round trip, climbs roughly 915 feet above the lake and begins on the left edge of the paved campground loop.

The first 0.75 miles shoot uphill as I attempted to shake the cobwebs of sleep out of my mind.

The trail passed a small rocky meadow of purple and orange paintbrush wildflowers before continuing to a fork in the trail. I took a sharp right turn at the junction the other trail leads to Kings Saddle and hiked another 0.5 miles to a forest road that is gated at the bottom.

The 6,269-foot summit is marked by the Forest Service Lookout Station, a small cabin with a cozy deck featuring a panoramic view of the Siskiyou Wilderness, the Red Buttes Wilderness, the Illinois Valley and, in the distance, the bulky peak of Mount Shasta.

The locked cabin is furnished with a few chairs, a thin kitchenette stocked with pots and pans, and a small wooden bed. This spartan cabin can be rented for $40 per night from July to September (call 592-4000 for reservations).

I ate a morning snack on the cabin's deck and looked down at the shores of Bolan Lake, which appeared as small as a puddle while the slumbering campground was all but invisible.

NIGHTTIME CAMPING

But from the shoreline of Bolan Lake, the campground is anything but invisible

Every campsite was taken the night I visited and a few disappointed cars drove aimlessly around the loop looking for a home for the night.

After a summer spent in remote backcountry locations where I was almost always alone, it was strange to camp among so many people.

As I cooked the rainbow trout I'd caught, along with some ground beef, the sounds of adults chattering, children laughing and dogs barking drifted in with the dark warm air.

For dinner, I was joined by a man with bright white hair and glasses.

His family had been camping at Bolan Lake for 45 years, and he said that in all of that time the area had hardly changed.

He said a few years back there was thought of paving a road all the way to the lake and creating even more campsites and amenities besides an outhouse toilet.

"The only improvement I've ever wanted to see here was for them to make the road a little less easy for people to drive in on," he said with a coy smile.

I felt as though he made a good point. Sometimes the best way to ruin a good backcountry spot is an attempt at "improvement."

The fish and ground beef sizzled in my frying pan as the man with bright white hair walked back to his campsite. The hushed sounds of people preparing for bed radiated in the small Siskiyou Lake that, from 6,296 feet, seems for all the world like a tiny puddle in the vast mountain wilderness.

o o o o

Directions: To get to Bolan Lake Campground, take Highway 199 7 miles south of Cave Junction to Waldo Road. Turn east onto Waldo Road and continue straight for 5 miles until you reach a stop sign located at an intersection. Continue straight onto Happy Camp Road for another 12.5 miles. You will reach the crest of the hill and will see a Bolan Lake Campground sign pointing left onto Forest Road 4812. At this point it would be a good idea to set your trip odometer to keep track of miles driven. Follow Road 4812 for 1.8 miles there will be a couple of roads veering off along the way but stay on the main road. When you reach the 1.8-mile mark, you will want to stay to the right side of the road which goes slightly downhill. Drive for another 2.4 miles until you reach another intersection that will have a sign pointing to Bolan Lake. Follow Forest Road 040 to the campground for another 1.8 miles.

To get to Tannen Lake, follow the same directions as you would take to Bolan Lake, but at pointers to both Bolan and Tannen Lake, follow the pointers to Tannen Lake along Forest Road 041. Follow the road, staying left, to the end at a parking spot. The trailhead is on the right side of the road just up from the parking lot. The trailhead is unmarked.