The Rogue River Trail's best hike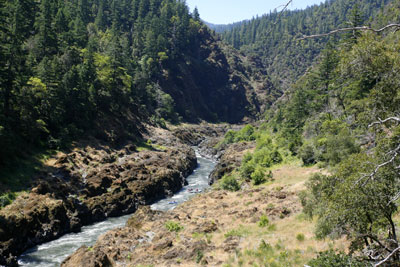 Zach Urness/Daily Courier
Mule Creek Canyon on the Rogue River.
The 40 mile Rogue River Trail takes hikers through the Oregon Siskiyous' most beautiful country. The best day hike, though, is between Marial and Paradise Lodge, where you can hike along Mule Creek Canyon and enjoy ice-cream at a remote riverside destination. For a photo gallery of the Rogue, click here.
o o o o
By Zach Urness of the Daily Courier
The Rogue River Trail has a way of inspiring mixed feelings in those who hike there during summer.
On one hand, you're walking through a mountain paradise of canyons and waterfalls, bald eagles and kingfishers, which make this rugged landscape the gem of the Oregon Siskiyous.
The problem, though, is something I'll call "raft envy." For me, the condition causes an unshakable desire to jump off the nearest cliff face and land in one of the boats floating along the river.
Which is understandable.
People come from across the world to raft and kayak into the Wild Rogue between Grave Creek and Foster Bar. It's once-in-a-lifetime experience that everybody should experience at some point.
And yet, if you're able to weather the initial symptoms of raft envy, you'll realize that hiking into the lower Rogue actually offers a few things boating cannot.
First and foremost, you don't need a permit to hike, which is required for watercrafts on this section of the river from May 15 to October 15.
Second, it allows you to appreciate the scenery in a different way. Because you're not concerned about the upcoming rapids, the wide expanse of sheer cliffs and mountains colored pastel shades of orange, yellow and green are more easy to drink in.
The Rogue River Trail is 40 miles, but if you're looking for the best day hike — the best morsel of a five-star meal — consider the 3.3 mile section from Marial to Paradise Lodge.
Following the basalt walls of Mule Creek Canyon and passing the famous Blossom Bar Rapids, this section presents the Rogue at its majestic best.
The kicker?
At the midpoint is Paradise Lodge, a rustic and beautiful old place where you can kick back with the frosty beverage of your choice. If you want lunch, it's best to call ahead (888-667-6483).
The only drawback to hiking this section is the drive to Marial, which as I learned this past weekend, is a pretty strong pain-in-the-backside.
There's no easy way to reach this remote Rogue River outpost, and the drive takes at least two hours whether you come from Grave Creek or take Interstate 5 to Glendale and cut across.
The main reason for my trip was photographic. With the possible exception of Crater Lake, the Wild Rogue Wilderness boasts Southern Oregon's most famous scenery.
And once you're on the trail, it doesn't take long for that scenery to begin.
The first mile skirts the edge of Mule Creek Canyon, a narrow crack of black cliffs the Rogue squeezes through in twisting, whirlpooling fits that send rafters careening from one side to the other.
After .7 of a mile you'll reach Inspiration Point, which looks out upon Stair Creek Falls, a cascade that tumbles down the canyon's black edges and into the river.
Eventually the trail moves away from the river — through never too far — and into a sweet-smelling forest with massive, twisting pines. The shade here is welcome, because the hot summer sun turns the canyon into a baking furnace.
(The best way to combat overheating on the trail is find a small, icy creek, walk down to its shoreline and drop your head into the water — sort of like a flamingo sticking its head in the sand. Blossom Bar Creek is a fine choice, since it's located just below the canyon).
Further down the trail is Blossom Bar itself, the river's most famous rapids. History has it that these rapids were impassable until Rogue River legend Glen Wooldridge blasted out the rock.
What remains is a difficult, Class IV boulder garden that includes the dreaded "Picket Fence" — a group of undercut rocks with a nasty reputation. Since 2007, three people have died there even while wearing life jackets.
"Unfortunately it has a death count, and it's scary now," Brad Niva, owner of Rogue Wilderness outfitters in Merlin told the Daily Courier a few years ago.
None of the river guides I saw during my hike had any trouble, as they wove through the boulders while their passengers squealed and shrieked in the spray of the waves.
They all caught the correct eddy behind the "Horn," and pulled through the slot without the slightest bit of trouble.
Still, hiking through the area and knowing the history sends a shiver down your spine.
The next mile travels pretty, though less dramatic scenery, until I veered left at Paradise Creek and headed to the famous lodge.
The bar itself has the wonderful smell of old rustic places with wooden interiors. Its walls are filled with pictures of river guides and past presidents of the United States. (In this area, the former being more important than the latter.)
Paradise Lodge has that romantic appeal of a place you can only reach by foot or by float, and there was ice-cold lemonade waiting for me when I arrived.
I relaxed into a leather chair and polished off an ice-cream bar and brew, while listening to a 20-something employee teach cribbage to a group surrounding him.
Cold lemonade and cribbage. Ice cream and beer. All together in a rustic old lodge with a view overlooking the wild section of the Rogue River.
The peaceful setting didn't quite alleviate all those symptoms of "raft-envy," but it did establish the route between Marial and Paradise Ranch as perhaps the best day hike in Southern Oregon.
o o o o
Wild Rogue Wilderness
Adventure: Day hike
Location: Marial to Paradise Lodge
Distance: 6.6 miles round trip
Difficulty: Easy/moderate
Highlights: Rogue River's best scenery, snacks or lunch at Paradise Lodge (best to call ahead: 888-667-6483
Conditions to consider: The trail is baking hot by August and rainy in winter
Links: PHOTO GALLERY
o o o o
Directions (from "Hiking Oregon's Southern Cascades and Siskiyous" by Art Bernstein)
These directions take you from Grave Creek to Marial. It's a slightly rougher route
From Grants Pass, leave Interstate 5 at merlin and proceed 23 miles on Merlin-Galice Road past Galice to the Grave Creek Bridge and boat landing. Turn left just over the bridge and head up the mountain on 34-8-1 (gravel) for 15 miles. The road is very narrow and winding for three miles between Whiskey Creek Road and Sawmill Gap. At mile 15.1, the road merges with the upper end of Whiskey Creek Road and becomes 32-7-19.3. At mile 15.6, you pick up 32-8-31, a one-lane blacktop road from Glendale. Turn left, toward Powers, and go another 5 miles to the Marial Road 32-9-14.2. The gravel Marial Road is 15 miles long, very steep, very winding. Proceed past Tucker Flat Campground and Rogue River Ranch, through Marial, to a small trailhead parking area at the road end, 2 miles past Rogue River Ranch. The last mile is quite rough.
Directions: (From "100 Hikes in Southern Oregon by William L. Sullivan")
These directions keep you on paved road for most of the trip, though there still are some very rough spots
From Grants Pass, drive 22 miles north on Interstate 5 to Glendale exit 80. Head west 3 miles into Glendale. Opposite a small gas station (that no longer is operating), turn right on Brown Street, which becomes Reuben Road. After 12.3 miles turn left at a large brown signboard on the left. Take this paved side road for 8 miles, continue straight on Road 32-8-31 for 5 miles (following a sign that says "To Coast"). Finally, turn left on Road 32-9-14 for another 9 miles of steep, bumpy gravel road down to Marial. Ignore a turnoff for the Rogue River Ranch and go straight, past the buildings of Marial, to the road's end and the trailhead.