World champ casts his magic for local anglers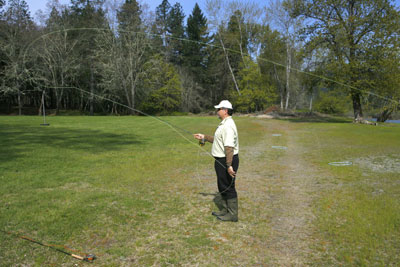 Zach Urness/Daily Courier
Steve Rajeff is one of the world's best fly-casters.
Fly-casting is a difficult skill to master, but to help make the process a little easier, world-champion Steve Rajeff came to Grants Pass to work with local anglers in a class sponsored by the Southern Oregon Fly Fishers. For a video of the class, and some helpful tips for fly-casting, click here.
o o o o
By Zach Urness of the Daily Courier
Perhaps the leading cause of four-letter words not appropriate for publication in this family newspaper is, among fly-anglers, something called a "tailing loop."
This plague of the waterways occurs when the angler's cast doesn't smoothly roll across the top, but rather drops the leader below the main line and creates a closed loop.
It looks a little bit like a dog dragging its backside across the carpet and is roughly as helpful. Tailing loops have a way of creating nasty tangles and knots in the line, and in my experience, always occur when hungry steelhead are feeding just a few feet away.
What makes it even more frustrating is that an errant fly-cast — not unlike a golf swing where you slice the ball into the woods — could be caused by so many different but small mistakes.
That's why I jumped at the chance to take a fly-casting class offered by the Southern Oregon Fly Fishers of Grants Pass this past Friday.
The SOFF scored one of the biggest names in fly-casting, Steve Rajeff, to conduct the class. He's won the American Casting Association event 35 consecutive times and the bi-annual World Casting Championship on 13 occasions
During two sessions at Griffin Park, he provided a quick tutorial on fixing the little mistakes that can impair your cast, including the tailing loop.
"You can't be an expert on the first or second or 10th time," said Rajeff, whose record for single-hand casting is a whopping 234 feet. "Fly-fishing is a life-learning sport. None of us know it all."
Despite being a superstar of competitive fly-casting, Rajeff was down-to-earth and helpful.
After watching a few casts, he pointed out that my problem was snapping my wrist too strongly at the end of my cast. This caused an erratic jolt of power that disrupted the cast's fluidity and caused the tailing loop.
He suggested using a more smooth, gradual turn of the wrist along with dropping my arm a bit to make the process more comfortable.
The advice was different for everyone in the class. He covered casts that helped create a more natural drift in the water and even demonstrated how to use a 17-foot rod that resembled a small skyscraper.
"We had guys in the class that were pretty much experts," said Dave Grosjacques, president of the SOFF. "But every fly-fisherman needs a little help with their casting from time to time, and having a guy like (Rajeff) teach the class is a pretty amazing opportunity."
It also helps to cut down on those four-letter words.