Fishing for steelhead in Grants Pass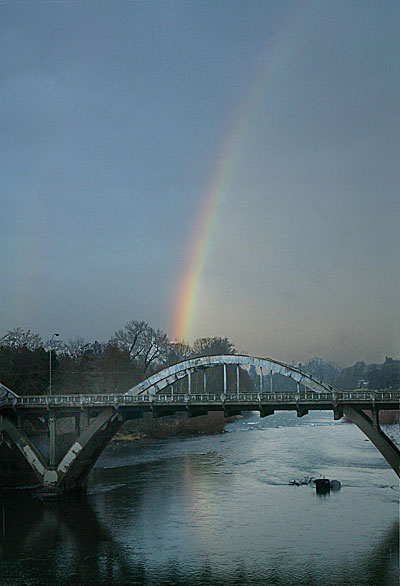 Zach Urness/Daily Courier
You can catch fish a stones throw from Caveman Bridge.

Most people go fishing to escape the crowded hustle of towns and to get out into the wilderness. That's why it felt a little strange to be fishing in downtown Grants Pass, casting for steelhead amid all the sounds of the city.

o o o oBy Zach Urness of the Daily CourierThere's something that feels peculiar about walking along a crowded street in downtown Grants Pass with a fishing rod in hand and thoughts of steelhead in mind.

Fishing, I've always thought, is an activity that takes place on a lonely half-moon lake or along a river enclosed on each side by deep woods.

Most people I've known go fishing, at least in part, to escape the crowded hustle of towns.

And so it felt a little strange that on a cloudy Monday morning I was walking along Fourth Street with my rod case in hand and flies packed away in my backpack, heading toward a fishing spot in the heart of Grants Pass.

Instead of pine trees, I passed the Juvenile Justice Center.

Instead of deer running through the woods, I saw people with briefcases tramping toward office buildings.

And instead of grassy plains with wildflowers, I saw "McCain/Palin" and "Vote Obama" signs peppering the ground.

My destination was the Fifth Street River Overlook. When I arrived, I skirted down a dirt path to the shore of the Rogue River and waded out onto a narrow rock island.

This is a popular place for many in town to fish, and it's always struck me as an interesting landscape.

The Caveman Bridge arches above the river like a grey Roman aqueduct while pine trees ornament its edges.

The river is bordered on the north side with fresh-looking apartments and large houses, while on the south shore is a trailer park.

As I put together my rod and reel, the booming sound of cars on the bridge and the rush of the river mixed into one steady hum. I tied a foxy brown stonefly to my leader and attached a Hogan's Isonychia Nymph to set up a dead drift.

An ambulance siren wailed overhead as I began casting upstream.

I watched my line as it drifted through the smoothly running current and past the bridge's stone legs for any sign of a twitch.

Norman MacLean once wrote that, "one great thing about fly fishing is that after a while, nothing exists of the world but thoughts about fly fishing."

Of course MacLean was right. After just a few moments, I forgot that I was below a loud bridge.

My world suddenly distilled itself into the location of the next cast and the subtle pull at the end of my line.

The morning light eventually turned into early afternoon. I caught nothing except one small trout and decided finally to fish near the riffle at the western end of the rock island.

I waded out into the water and began casting my line toward the base of the fast-moving current.

After 10 minutes I caught a snag, and with an impatient pull, snapped my line.

I decided this would be a good time for lunch. And one good thing about fishing in town is restaurants always are nearby.

I began to notice the sounds and smells of the town as I walked back up toward Fifth Street.

I passed a sullen-looking group of teenagers smoking cigarettes at the overlook and saw a man leaning against a red shopping cart filled with clothes and aluminum cans.

I stopped on G Street at the Laughing Clam. It's my philosophy that there's no better way to celebrate an unsuccessful morning of fishing than with a burger and a beer.

I ate my lunch slowly and eavesdropped on two men angrily discussing the government's bailout of failing banks on Wall Street. When they moved on to the topic of the presidential election, I knew it was time to go fishing again.

I returned to the rock island and noticed there was a presently warm breeze.

The sun was bright in the blue sky and sparkled against the silver riffles of the water.

As I began putting my rod back together I wondered to myself whether the politicians in Washington ever considered fly fishing in the Potomac between legislative votes.

Somehow, I doubted they had the time for fishing.

Still, it seemed like a good idea. Fishing is a very fine way to escape life's never-ending bustle, if only for a few hours. And it doesn't matter if you're throwing your line into a pristine mountain lake or a river oasis in the middle of the city.