Cathedral Hills far better than treadmills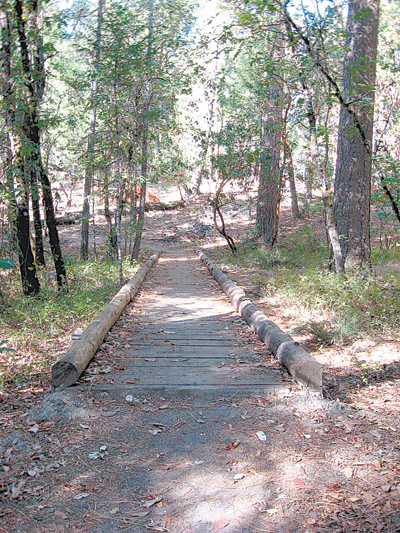 Zach Urness/Daily Courier


Grants Pass' Cathedral Hills is an excellent spot for running ... especially compared to treadmills. There are a number of options for those looking to get fit.

o o o oBy Zach Urness of the Daily CourierI've never understood why anybody would want to exercise on a treadmill.

The mechanical humming sound drives me nuts. The awkward rhythm of the tread feels unnatural, and touching the wrong button can send you flying 50 feet backward into the nearest wall.

Yet people pay thousands of dollars for treadmills. I saw one on the Internet the other day for a cool $2,988.

That's absurd.

Running might be the simplest endeavor in human history. All it asks for is a semi-open space and the will to move your legs forward.

The only reason I'd ever pay $2,988 for a treadmill would be if it created electricity for my house.

Still, running is a good idea. Obviously there are numerous health benefits and besides, there are plenty of reasons to be in good shape.

Maybe you want to play a pick-up basketball game with your buddies. Maybe you want to play soccer with your kids. Or maybe you need to run away rapidly because it turns out the beautiful woman you've been hitting on has an extremely jealous boyfriend with a shotgun and a fast car.

All of these situations would require you to be in shape, but a treadmill is not the way to go. To truly enjoy the experience, I'd recommend running outside.

And in Grants Pass, the best place I've found is Cathedral Hills Park.

Located a few miles south of town near the Grants Pass Golf Club, Cathedral Hills consists of a small patch of oak, fir and ponderosa pine forest crisscrossed with trails designed for hikers, mountain bikers and equestrians.

In the fall, the trails run through an autumn world of orange, red and golden brown leaves.

There are three different access points to these trails, including the main entrance at the end of Espy Road, which recently underwent construction and has opened up a larger parking area.

The best thing about Cathedral Hills for runners is the trails feature a variety of lengths and different ranges of difficulty. For an easier run, there's the one-mile Backside Loop, which rolls over just a few tough grade changes in mostly shaded dark pine forest.

But my favorite route is the Outback Loop. It's a challenge to run the entire three and a half miles of hills and slopes, but it's the most scenic route, and there are plenty of shortcuts.

This trail begins in a pine and oak section of shaded woods. After about a mile, the trail shoots sharply upward to roughly 1,700 feet. A little further are viewpoints of Grants Pass below, its pale buildings tucked into the Rogue Valley and surrounding mountains like green city walls.

After about half a mile at the top, the trail once again drops down into the cool woods. Further along is the trail spur for Ponderosa Pine Trail, which, true to its name, follows a trail that passes the thick bases of trees more than a hundred feet tall.

While this section of trail is fine for running, it also can be dangerous, something Robert Bain nearly learned the hard way.

On July 24, the Grants Pass attorney was running his four-mile loop through the park when a 60-foot ponderosa pine snag fell on the trail just seconds after he passed.

"I'm calling it my near-death experience," Bain said at the time.

There is more than just running to do on these trails, though. The trails labeled "most difficult," feature wildly sharp turns and sharp elevation increases and decreases and are perfect for mountain bikers.

In fact, when you take into account the sharp hills, mountain biking terrain and the long paths, you actually have the same befits of a stationary bike, treadmill and Stairmaster all within the confines of the sweet-smelling woods.

And the best part, of course, is that you don't need to pay for a gym membership or step foot on a treadmill to enjoy it.