Big Pine a refreshing taste of outdoors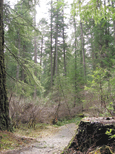 Zach Urness/Daily Courier


Big Pine Campground offers a nice system of trails in the Briggs Valley area. It's a nice place to hike, even if it happens to be raining.

o o o oBy Zach Urness of the Daily CourierIf you happen to find yourself stuck indoors on a rainy day, here's a offbeat suggestion: Put on a rain jacket and some hiking boots, get in your car and drive about 30 miles to Big Pine Campground.

Then step out into the forest and take a large breath of air.

You won't regret it.

There's absolutely nothing like the smell of a pine forest in the Oregon rain. The air is cool and wintergreen. The raindrops make a plop-ity-plop sound on your rain jacket.

It's possible that you're missing a good soap opera and that you'd be much warmer wrapped in a blanket lying on the couch. And should you walk around in the rain on purpose, it's possible your family will think you've gone nuts.

But try it just once.

"We just love how peaceful it is," said Jack Schaefer of Northern California, who was hiking in Big Pine this past Tuesday with his 7-year-old daughter Kalie. "We're not getting too wet, and it's almost nicer with no people and all the sounds (of the rain)."

The Big Pine Loop Trail, located in the Siskiyou National Forest, is a place to pay homage to everything pine. The four looping trails take you among the type of evergreen forest that helps define Oregon's landscape.

The Big Pine tree itself, which provides the campground its name, is located .3 of a mile from the trailhead. Measuring more than 250 feet tall, possessing a circumference of 17.5 feet and having lived upon the earth more than 300 years, this giant tree once moved environmentalist John Muir to muse: "Of all the pines, this one gives forth the finest music of the woods."

According to the U.S. Forest Service, Big Pine is the tallest ponderosa pine tree in the world.

But it's also true that 300 years is very old for a pine tree, and signs of its deterioration are in a yellow hue and a ragged coating of bark.

Still, the tree is an impressive spectacle, and stands as the Godfather among the other, smaller, pine trees as well as the Douglas fir and birch trees.

Throughout the looping trails of Big Pine Campground are a number of signs that help explain the forest ecology. The signs also explain the flora of this old-growth forest and the local weather patterns that allow the pine trees to grow so large.

The Creek Loop is .2 of a mile and follows Myers Creek. Pale white birch limbs with tufts of green moss hang over the riverbed, and informational signs explain the river's role in the ecosystem.

Along with Big Pine and Creek Loop, there also is Sunshine and Challenge loops, both of which are slightly longer than half a mile.

The Sunshine Loop (.52 of a mile), true to its name, takes you into open areas in the pine canopy. Since most of the trails travels through old-growth forest, the streaming sunshine on this sloping trail is a pleasant change.

Challenge Loop (.75 of a mile) takes you past a few small rivulets and around some downed trees, but still isn't much of a "challenge."

The area is ideal for a family outing. None of the looping trails are longer than one mile and there are plenty of benches to stop and rest.

It doesn't have to be raining for you to enjoy the pine-rich aroma present in ever section of this park. You can think of a nice Oregon shower as a sort of bonus.

NOTES. The campground includes 14 tent sites with picnic tables, fire grills, vault toilets and hand-pumped water, some of which are wheelchair accessible. ... Leashed pets are permitted. ... Reservations are not required. ... The campground is open late May through mid-Oct. ... For more information, call the Galice Ranger District at 471-6500.