Azalea Lake shimmers in Red Buttes Wilderness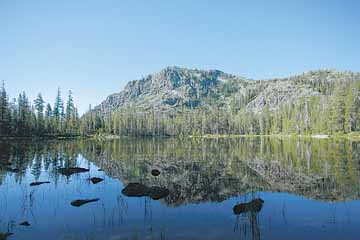 Reaching Azalea Lake in the Red Butte Wilderness requires a seven-mile hike from the Fir Glade trailhead.

Azalea Lake is the largest body of water in the highly remote and strangely beautiful Red Buttes Wilderness. The trail, which begins in Oregon and travels across the California border, is so wild in some places that it's easy to get lost. Something I experienced first hand.

Here's a link for a photo gallery of the Red Buttes and here's a video. Here's more detailed information on the trail itself.o o o oBy Zach Urness of the Daily CourierI'd been hiking along Fort Goff Trail for about two miles, in the cool morning air, when the woods opened up to reveal a small grassy marsh rolling out below the incense cedar and Douglas fir trees in the Red Buttes Wilderness.

The marsh was a bright green square of wet sunlight boxed in by the shade of the forest, and I took a moment to admire my surroundings before continuing along down the trail.

I was in a good mood. I'd backpacked seven miles the day before, crossing from Oregon into California, and had made camp at Azalea Lake where I'd spent the evening fishing from a small inflatable raft I'd packed.

Although 5,400-foot high Azalea Lake is a fairly shallow, the assortment of bugs and flies seem to keep the brown trout that live there fat and happy.

I'd slid my raft into the glassy water just as the glow on the cliffs turned from yellow to dark orange, and gust of warm, brownie-soft air swept in through the trees to help me drift across the oval lake at a lazy speed.

It had been a good night.

Now it was morning, and I was back on the trail, trekking even deeper into the Red Butte backcountry toward the aptly named Lonesome Lake. I hadn't originally planned to make the extra six-mile trip, but just the name - Lonesome - gave the remote lake a certain allure.

I hiked quickly down the trail, hoping to reach my destination before the day became boiling hot. I turned south from Butte Fork Trail onto Fort Goff, and after two miles, I reached the marsh.

After passing the marsh, the trail I was following became increasingly ragged, though I hardly noticed the change.

Many of the trails this deep in the Red Buttes are covered by brush - they disappear and then reappear 20 yards later - and I was thinking more about spots to fish when I returned to Azalea Lake.

I had caught two small trout the night before - liquid brown with red spots - and I imagined the smell of cooking them on an open campfire, and the taste of eating them seasoned with lemon juice and pepper.

I snapped out of my daydream in front of a fallen tree. I hopped on top and looked around, suddenly realizing I'd been hiking without much thought of direction. I didn't see any sign of a trail.

I circled the area. No trail. I bushwacked 10 yards to an opening in the forest. No trail.

I took out my map. After the marsh, the trail was supposed to start zig-zagging uphill, but I realized suddenly that for the past 15 minutes I'd been tromping downhill. Frustrated, I decided to turn around. The day was getting hot, and I was wasting time.

But when I turned around, the route back was not obvious. There were multiple openings in trees and no clear trail. I bushwacked uphill and then down. After about 10 minutes, nothing looked familiar.

A cool wave of shock washed through me. I wasn't sure in which direction to go next.

Small beads of sunlight trickled down through the web of tree branches. I took a drink of water and looked out into the deep, empty forest.

o o o

Azalea Lake is a remote destination south of Applegate, and reaching it requires navigating a series of rough forest roads as well as a tough seven-mile hike. But it's by no means a secret to the citizens of Josephine Country.

Weekends in July and August usually find at least one group camped there - both backpackers and equestrians - in the campsites outside the lakeshore loop.

Azalea is the largest lake in the Red Buttes, a wilderness area that gets its name for reddish-orange hue that a high content of iron and magnesium lends to the dramatic peridotite and serpentine cliffs.

The lake itself is named for the large blooms of white mountain azaleas, which are along the shoreline and almost everywhere else in the small valley.

The hike from Fir Glade trailhead is outstanding but tough, climbing 2,030-feet and crossing the Oregon/California border after one mile before tight-roping along the deep horseshoe-shaped valley of Phantom Meadow.

The trail climbs across a pair of mountain passes - the first at 5,500-feet and the second at 6,000 - which look out onto a sea of Siskiyou Wilderness peaks and valleys.

In the distance, you can see the cliffs of other favorite lakes in the Siskiyou Mountains, such as Devil's Punchbowl and Preston Peak, which sits above Raspberry Lake.

The final mountain pass leads you to a final series of switchbacks that drops to the shores of Azalea Lake.

As for the trip to Lonesome Lake, well, that's roughly three extra miles, provided you don't accidentally take a detour off the trail and into the deep empty woods.

o o o

The realization that you've lost a trail begins with a twisted knot of panic in your stomach, and slowly spreads to your arms and legs, until at last it infects your mind.

You're seized with the impulse to charge around frantically, to hike harder, faster in any direction that looks promising. This is a dangerous moment for any hiker.

I forced myself to stay sitting for five minutes. I looked at my map and compass, and took a deep breath. The air smelled of warm cedar trees. The sky was deep blue through the branches.

I focused on the marsh - my last known landmark - which was a greenish blue blob on the map.

I knew I'd dropped gradually downhill in a direction that led away from the marsh, and I followed the topographic lines that dropped in elevation, noticing that they led south and southeast.

I knew I had not gone too far off track. I reasoned that if I hiked due north, I would hit the Butte Fork trail, which runs east and west. At worst, I would eventually run into the valley around Azalea Lake.

I picked up my compass and watched the magnetic hands swing toward true north. I began hiking slowly, carefully, in a north and northwest direction. It seemed wrong, somehow, but I trusted the compass.

After a few minutes I heard the burble of a tiny stream running downhill. I stopped and splashed water across my face. Then I thought about the marsh. The trickle was running downhill from the northwest. It must have had a source. I decided to follow it.

The thorny bushes ripped at my sunburned arms, and I was thick with sweat as I followed the trickle carefully uphill. After less than five minutes - five long minutes - the trees opened up to reveal a small grassy marsh rolling out below the incense cedar and Douglas fir trees.

I let out a deep breath.

o o o

It's easy to forget how quickly you can lose your way in the backcountry. I've hiked hundreds of miles on hundreds of trails, learned about navigating in the Boy Scouts, and explored far more remote places than the Red Buttes Wilderness. But because I was in a hurry, and thinking about fishing, I put myself in a bad spot.

As it turned out, I missed a quick twist in the trail because it was covered by the marsh's muddy water. I had followed a false trail until it gave out, and continued following an open gap in the woods because it seemed OK, and I didn't want to turn around immediately.

I had only lost the trail for about 20 minutes - although it felt like three hours - and I even made it to Lonesome Lake in good time.

In reality, there really wasn't much danger. I had water and food, a compass and a good map. Still, being lost for even a few minutes conjures up all types of awful thoughts.

I was sweaty and cut up by the time I reached the lake, but of course it was worth it in the end.

The shoreline of Lonesome Lake is draped with white blooms of azaleas and surrounded by high, rust-colored cliffs.

The moment I arrived, I tossed off my backpack and jumped over a grove of azaleas into the cool, refreshing water.