CONCERTS
• ACOUSTIC: Larceny Heart, 7 p.m. Friday, Grants Pass Museum of Art, 229 S.W. G St. Free; 541-479-3290.
• JIMI HENDRIX: Jeff Pevar Project, 7 p.m. Saturday, Hilltop Music Shop, 205 N. Phoenix Road, Suite J, Phoenix; $30-$35; 541-897-4525.
• VARIETY: Singers, poets, storytellers, 7:30 p.m. Saturday, Havurah Shir Hadash, 185 N. Mountain Ave., Ashland. $10; 541-488-7716.
• CLASSICAL: Rogue Valley Symphony, with pianist Alon Goldstein, 3 p.m. Sunday, Grants Pass High School Performing Arts Center, Eighth and Olive streets. $10-$37; 541-708-6400.
• ROCK: Karl Denson's Tiny Universe, with Jelly Bread, 8 p.m. Sunday, Ashland Armory, 208 Oak St., Ashland. $25-$30; www.liveatthearmory.com.
• INSPIRATIONAL ROCK: Switchfoot with Relient K, 7 p.m. Monday, Rogue Theatre, 143 S.E. H St. $26-$61; 541-471-1316.
ON STAGE
• ONE-WOMAN SHOW: "Eleanor Roosevelt: Her Secret Journey," 8 p.m. Friday and Saturday, 2 p.m. Sunday, Ashland Community Center, 59 Winburn Way. $15; 541-646-2971.
EVENTS
• WEDDINGS: Ultimate Bridal Show, 5-9 p.m. Friday, 11 a.m.-5 p.m. Saturday, Jackson County Expo, Central Point; $2-$5; theultimatebridalshow.com.
• BENEFIT: Art auction, with food, wine, music, 6 p.m. Friday, Bear Hotel, 2101 N.E. Spalding Ave. $25; supports Securing Our Safety; 541-704-8919.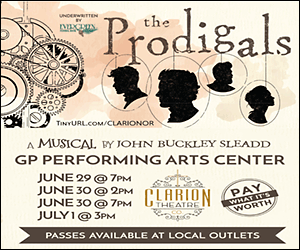 • FILM: "Return of the River," 6:30 p.m. Friday, Siskiyou Field Institute, 1241 Illinois River Road, Selma. Free; 541-597-8530.
• VARIETY: Southern Oregon Flea Market, 9 a.m.-4 p.m. Saturday, Josephine County Fairgrounds. $1.
CDs
Dropping Friday:
• BELL BIV DEVOE: "Three Stripes"
• FRANK CARTER AND THE RATTLESNAKES: "Modern Ruin"
• JAPANDROIDS: "Near to the Wild Heart of Life"
• SLEATER-KINNEY: "Live in Paris"
• VARIOUS ARTISTS: "2017 Grammy Nominees" compilation
BOOKS
Released Tuesday:
• JP DELANEY: "The Girl Before"
• CHRISTINE FEEHAN: "Power Game"
• TERRY GOODKIND: "Death's Mistress"
• LAURIE HERNANDEZ: "I Got This: To Gold and Beyond"
• ELLEN HOPKINS: "The You I've Never Known"
• DARYNDA JONES: "Eleventh Grave in Moonlight"
• JOHN LESCROART: "Fatal"
VIDEO
Released Tuesday:
• "INFERNO": Latest decode-it thriller based on bestsellers starring Tom Hanks as Robert Langdon, this time sorting out a Dante fan who has a plan to solve population explosion. PG-13
• "THE LIGHT BETWEEN OCEANS": A WWI vet (Michael Fassbender) returns to Australia to keep a lighthouse and start a family. When they find a boat adrift with a baby, they make decisions that challenge them forever. With Rachel Weisz, Alicia Vikander. PG-13
• "OUIJA: origin of evil": Friends unleash an evil and must confront their fears in this spooky sequel. PG-13
• UPCOMING: Due Jan. 31 are "Jack Reacher: Never Go Back," "Masterminds," "Queen of Katwe," "Tyler Perry's Boo! A Medea Halloween"